A charming little historic town with tasteful Victorian style located just ten miles from Washington, D.C.,
Kensington
, Maryland, offers a laid-back lifestyle paired with plenty of lively amenities. Kensington is the perfect suburb for those
looking to relocate
to a neighborhood with plenty of character and culture.
Residents who own one of the beautifully-designed Kensington homes benefit from trendy shops, frequent farmers' markets, and local art galleries right out their front doors. Of course, they also can choose from a variety of fantastic restaurants. When you move to Kensington, you'll be able to find tasty options for brunch, lunch, and dinner, no matter what you may be craving. Here are some of the best restaurants in the neighborhood!
K Town Bistro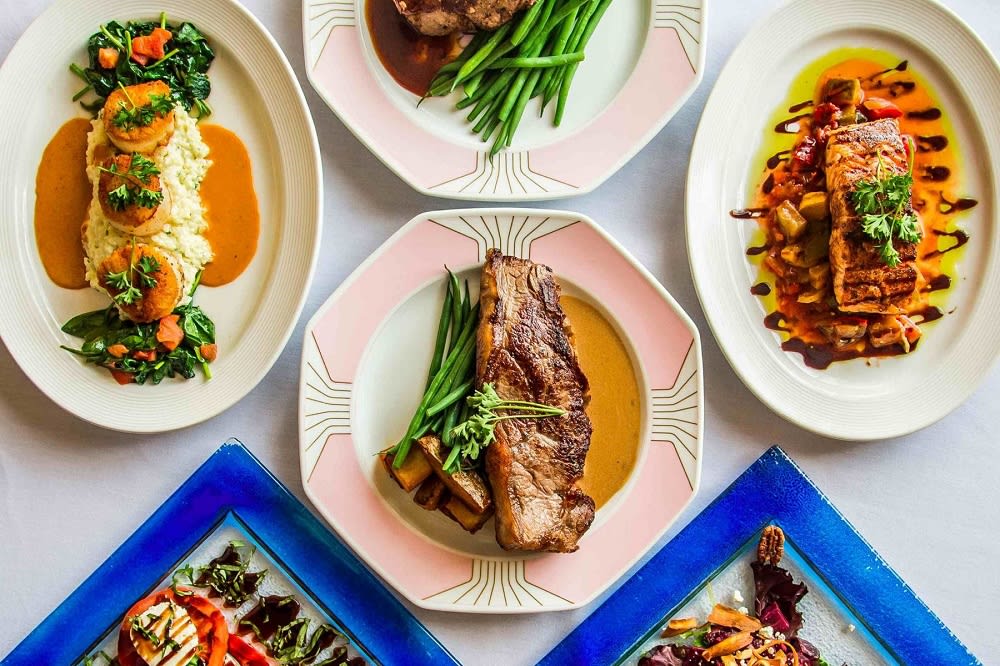 Photo Courtesy of Potmatess
Whether you've been a proud owner of one of the gorgeous Kensington homes for years, or if you're new to town, you'll instantly feel like family when you dine at the
K Town Bistro
. This quaint yet upscale restaurant is owned by a 40-year veteran of the fine dining industry. K Town Bistro is open Tuesday through Saturday for lunch and dinner and offers everything from chicken and shrimp pasta to salmon cakes, short ribs, and ahi tuna sandwiches.
If you want to treat yourself, make plans to come in between 5 and 6 p.m. for the two-course "Prix Fixe" dinner. Choose from a soup or mixed green salad followed by a delicious entrée of chicken marsala, beef stroganoff, or grilled salmon served over ratatouille. K Town Bistro also offers a small, curated wine list with excellent selections available by the glass or by the bottle.
deliCLUB
Located in the heart of town,
deliCLUB
is the perfect place to grab a healthy lunch or shop for your own gourmet dinner that you plan to cook at home. A family-owned business that started in a small Argentinian town, deliCLUB is run by
Soledad Ivaldi
, who has a passion for sharing her love for food and cooking with the Kensington community.
Owners of Kensington homes will be glad to have this adorable little deli nearby. It offers a variety of hot and cold sandwiches, salads (the roasted pumpkin is a local favorite), drinks, and tasty drinks soups served with bread and Parmesan. If you want to host an event or a gathering at your home, you can check out deliCLUB's catering menu. Full of delicious options like mini sandwiches served on brioche or croissants and skewers, you'll be sure your event is a hit when you get food from deliCLUB.
Black Market Bistro&nbsp
When it comes to fresh, thoughtfully-prepared food, you can't do better than
Black Market Bistro
. This bistro offers delicious food in a casual indoor or outdoor setting, a perennial favorite among the restaurants near Kensington, MD. Choose from flavorful appetizers like cornmeal-crusted oysters or Mediterranean grain bowls, followed by an Italian-style pizza, hardwood-grilled pork chop, or steak frites. Black Market Bistro also features a wonderful Sunday brunch from 11 a.m. to 2 p.m. Make the end of your weekend even better with pan-seared steak and scrambled eggs, buttermilk pancakes, or a classic croque-madame. You really can't go wrong!
Frankly…Pizza!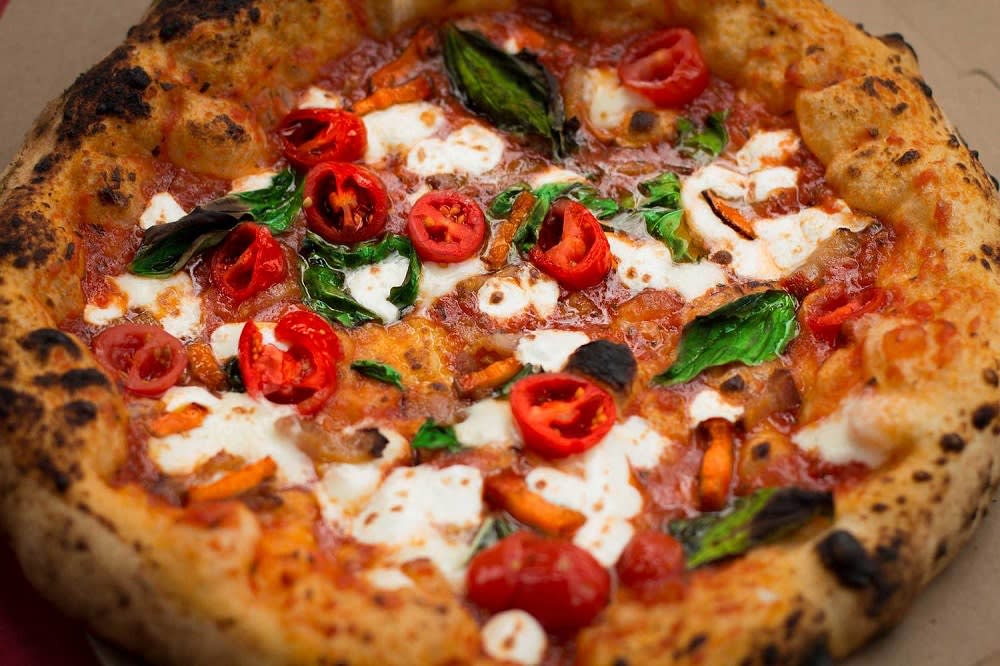 Photo courtesy of franklypizza.com

Who can say no to a delicious, hearth-baked pizza? Lucky owners of Kensington homes have one of the best pizza places right in their own backyard.
Frankly…Pizza!
offers exactly what the name implies: filling and hot pizzas cooked in an oak-fired brick oven and delivered straight to your table.
Served in just one size (11 to 12 inches), pizzas range from the "Hot Mess" (mozzarella, caramelized onions, house-made bacon, pickled jalapenos, plus Gruyere and Romano cheeses) to the "Porky Marge" (tomato sauce, mozzarella, basil, Romano choose, and bacon) and "Arugula" (fresh garlic, olive oil, ricotta, lemon, mozzarella, and salt finished with fresh arugula and Romano cheese). Pair your pizza with a glass of wine, beer, or one of the restaurant's house-made sodas.
Knowles Station Wine & Co.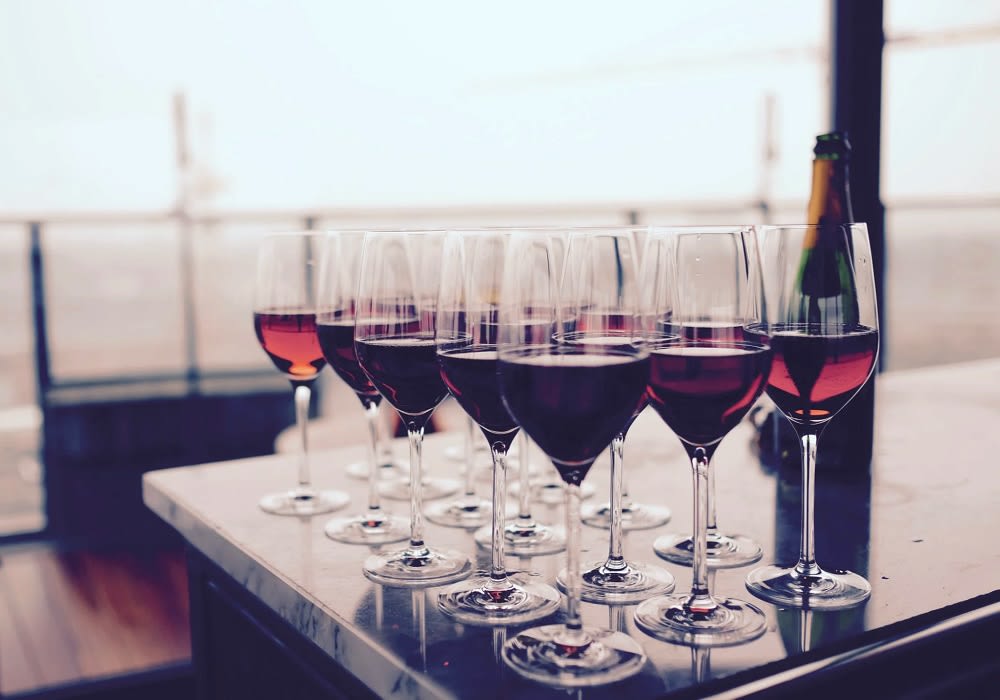 If you're looking for restaurants near Kensington, MD, that serve fine wine paired with made-from-scratch bites or full meals, look no further than
Knowles Station Wine & Co
. This local gem hosts regular events for the wine lover, including wine flight Wednesdays, Thursday wine tastings, and multi-course wine dinners. If you'd like to stop in, you can try one of the many wines available by the glass or bottle or, if wine isn't your thing, a tap beer from the restaurant's massive craft beer list. If you get hungry, you can choose a snack like wings, potstickers, or grilled octopus or get a full meal of steak Frites, a cobb salad, or a salmon burger served on a brioche roll with house-cut fries.
The Dish & Dram
If you ask those who own Kensington homes where to go for great cocktails and delicious bistro food, they'll likely direct you to
The Dish & Dram
. With its friendly service, fine cocktails, and innovative menu, you simply can't go wrong for lunch or dinner at this eatery. Specials include pan-seared flounder served with braised baby Swiss chard, creamy asparagus puree, roasted cauliflower, steamed mussels and fries, pan-seared duck breast, and roasted beet salad.
The Dish & Dram also offers Saturday and Sunday brunch with delicious choices like brunch shrimp and grits, eggs Benedict, and challah French toast. Don't forget the "dram" part of the equation! Start your meal off right with a craft cocktail like the "Chocolate Covered Orange" (Bluecoat American dry gin, brown sugar, and chocolate with Regan's orange bitters), "Hazel Pomegranate Lemonade," or an "Apple All Spritz" (Aperol, brandy, and prosecco).
No matter what you're craving, you can find something to satisfy your palate right in your own hometown. When you're ready to start looking at properties to experience all this charming town offers, reach out to one of the trusted local agents at
The Synergy Group
for expert assistance. They have the tools, experience, and expertise to guide you in your search.